Latest Updates:
We are now "Kong Shiang Engineering Pte Ltd". 
We will be updating the website and content as we transit over to the new design. Please bear with us if there is anything missing or incomplete.
Do reach out to us should you require any assistance.
---
Read more about our machines here.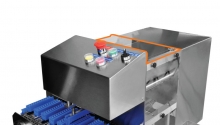 In part 2/3 of the upgrades to our Automatic Skewer machine, we will be cover the stick loading chamber. The old stick loading chamber has ...Read More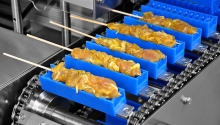 Over 3 posts, we will cover the various upgrades to the Automatic Skewer machine, KSE-ST28. Controls We noticed over the years during service and repair ...Read More
Leading supplier of food processing machines and equipment in Singapore
We supply a wide range of food processing machines and equipment to commercial industrial factories or kitchens in Singapore and other parts of the world.
Our range of food machineries
01. Food Preparation machines
Click the link to jump to the desired section →
---
02. Food Processing machines
Click the link to jump to the desired section →
---
Click the link to jump to the desired section →
---
We have resume viewing, testing or demo at our premises. Visitors will have to wear their mask at all times properly and perform TraceTogether check upon arrival.
Do contact us if there is any particular machine you would like to view or test, we will be most delighted to follow up.
---
Important Notice
Due to current covid-19 situation, we will require all visitors to wear their face mask and sign in via the TraceTogether QR code available at our entrance. 
A little something about us
Made in Singapore.
We design and build food processing machines and industrial kitchen equipment in Singapore for the Food & Beverage (F&B) industry primarily.
Covering preparation, processing and filling aspect of the production.
Self reliant, from hardware to software, a large portion of the fabrication is done in-house. Giving us the capability and capacity to adapt and offer customise solution to our clients both new and old.
"We believe in quality, therefore every machine is carefully hand built."
We provide after sales services such as set up, installation, training for operation, maintenance and troubleshooting for our clients both local and overseas.
Our friendly service team is always ready to relief our client of any down time.
Leading Supplier of Food Machinery in Singapore
Here at Kong Shiang Engineering, we do our best to design and fabricate machines that fulfil the following criterias; easy to use, easy to clean and lastly, easy to maintain. In this way, anyone can use the machine without much difficulties, maximising the potential. Our machines cover a wide range of commonly used processes within the food & beverage industry. One such is our food processing equipment which has machines like the Automatic Skewer machine and the Multi Function Steam Cooker or commonly known as an industrial cooker mixer.
Food Processing Machines
Amongst the few food processing equipment we have, popular ones are the:
Automatic Skewer Machine
The machine is used to skew various types of meat and is designed to increase the output, consistency and quality of each skewered meat as compared to doing it manually. Capable of up to 1,100 sticks skewered per hour with a team of 3 people operating. Find out further details about this machine here.
Multi Function Steam Cooker
The machine is a type of industrial cooker mixer that is designed to replace traditional wok and fire cooking by using steam, vacuum and other technology to replicate or even enhance cooking processes. Highly suitable for liquid, sauce, paste, soup, jams, cheese products and more. Various features like individual parameter adjustments like temperature, mixing rpm, vacuum etc, storable memories for each recipe, and more. If you are interested to read further details about this food processing machine, you can do so here.